Finding the perfect paint colors for the exterior of your home is hard, but it's even harder when you're part of an HOA. HOAs, or Homeowners Associations, are great because they help protect the value of homes within the neighborhood and help create a cohesive feeling throughout the community.  That being said, they can also be a pain to work with.  Here are tips straight from your Colorado paint pros about how to submit your exterior paint colors to your HOA for approval along with a selection of popular HOA color schemes curated for you by our professional color consultants.
Before You Submit Colors to Your HOA
There are a few things you need to know before you're ready to submit any colors to your HOA.  
1. Check for Pre-Approved Colors
If you're lucky enough to be part of an HOA with a list of pre-approved color schemes, then yay! Pre-approved colors can greatly improve your chances of approval and some HOAs don't even require approval for pre-approved schemes! While pre-approved colors can limit your options, it will make the selection process much easier. 
2. Ask About Their Specific Approval Process
Every HOA is different, so you'll want to contact your specific HOA directly for details about their color approval process and requirements. Some HOAs require a submission fee and paint chips or color links, while others may require you to paint samples on your garage so they can be viewed before approving. It's best to accommodate these steps as much as possible and work within your HOA's guidelines. Othersies, you may wind up with any issues.
Note that you will most likely not be able to use colors that are too similar to your neighbors. Many HOAs value variation between each home. If you submit colors that are the same or similar to the neighbors on either side of your home or across the street, they will likely be denied and a waste of time. 
3. Plan Accordingly
Most HOAs review color scheme submissions at a meeting together before they approve or deny your any paint colors. That means that the frequency of which your HOA meets could have a big impact on your project timeline. Here in Colorado, HOAs typically have 14-60 days for approval.  Highlands Ranch, HRCA, is one of the fastest turn around times for color approvals with homeowners typically receiving approval within 1-2 weeks.
If your HOA requires more than a couple of weeks to approve colors then you'll want to make sure you plan your paint project accordingly. It's vital to make sure you have enough time to select colors, submit them, and get approval before any paint is purchased. Otherwise, this can create delays on your project and be costly to change. 
HOA Friendly Color Schemes from Color Consultants
Exterior Color Scheme #1
Body – Acier 9170
Trim – Shoji White 7042
Accent – Carnelian 7580
In this color scheme we have a classic gray body with just a touch of warmth. We find this color scheme to be warm and inviting. Shoji White on the trim brings a nice contrast without feeling too sharp, and a deep red door helps everything feel grounded and harmonious.
Exterior Color Scheme #2
Body – Evergreen Fog 9130
Trim – Alabaster 7008
Accent – Dark Night 6237
Green saw a huge surge in popularity last year with Evergreen Fog being a favorite amongst homeowners.  We've paired it here with Alabaster, which is a beautiful, bright white. Dark Night adds a dark, but subtle accent.
Exterior Color Scheme #3
Body – Slate Tile 7624
Trim – Pure White 7005
Accent – Peppercorn 7674
Blue is one of the most commonly requested colors for the exterior of homes. It's also the most common favorite color in the world, so that makes perfect sense! Slate Tile is a stunning blue-gray that really gives you that punch of blue without looking cartoonish. We've paired it here with the crisp Pure White and have Peppercorn as a warm, grounding accent color.
Exterior Color Scheme #4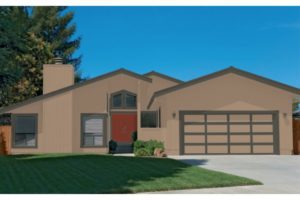 Body – Craftsman Brown 2835
Trim – Roycroft Bronze Green 2846
Accent – Roycroft Copper Red 2839
This scheme is perfect for those of you who have a craftsman style home and want a traditional color scheme that doesn't feel dated. Craftsman Brown is a nice neutral and when paired with Roycroft Bronze Green it feels like a classic Colorado color combination.  We've rounded it out with Roycroft Copper Red which would make for a fantastic front door color, but please DO NOT use it on shutters as this can result in a clown-like appearance.
Exterior Color Scheme #5
Body – Gray Matters 7066
Trim – Pure White 7005
Accent – Tricorn Black 6258
Gray never goes out of style and Grey Matters is a wonderful, middle of the road option that isn't too warm or cool. To make sure this scheme didn't end up feeling too warm, we paired it with classics like Pure White on the trim and Tricorn Black as the accent. 
Fun fact–Tricorn Black is the absolute darkest black paint color available from widely available paint retailers!
Getting HOA Approval
What makes these schemes HOA friendly is that they are all neutrals, or based on earth tones, which is a huge trend for covenant controlled neighborhoods here in Colorado. If you need more inspiration we recommend driving around your own neighborhood to view other homes. This will help you get ideas for what you'd like to see on your own home. For more color tips and tricks be sure to follow us on Pinterest and Instagram where we post weekly! 
If you need any further assistance with selecting colors, you can easily schedule an appointment with one of our certified Color Designers HERE. And if you'd like more information, feel free to give us a call at (720) 637-4805.