What Comes With Our Interior Painting Services at Kind Home Solutions
So you're ready to paint the interior of your house. But what does such a big project entail? 
As a professional painting company in Denver, we've found that a lot of homeowners aren't certain on what comes with an interior home painting project. 
Do paint companies take care of all the necessary prep work first, or do you have to do that yourself? 

Should you expect to pay a deposit?

What happens if your new paint ends up failing, or gets damaged? 
The answers to these questions definitely depend on who you decide to work with. 
While every paint company operates differently, it is important to understand what is most important to you and your project before signing with any ol' paint company (see 10 Questions to Ask Your Painter). 
That being said, here is what you can expect when you choose Kind Home for your interior paint project! 
1,2, and 3 Year No-Exclusion Warranties
It's important to note that most paint companies do not warranty interior painting and it may be rare to find a company that is willing to do so. 
We recommend that you always ask the painter you hire if they warranty their work. And if they do, make sure to read the fine print and get a good understanding of what they do in fact cover. 
At Kind Home Painting Company, we want you to rest easy after your paint project is completed. That's why we offer 1, 2 and 3 year warranties for our interior painting projects. 
Depending which of our warranty/product options is right for you and your project, you can rest easy knowing that we stand behind our workmanship and cover any chipping, peeling, cracking, and fading that may occur. 
From kids, pets, coffee spills and everyday bumps and knicks, life happens, so leave the paint to us! 
The Best Interior Paint Products on the Market
We always suggest that you do your research on different types of paint products and the tiers offered from different paint manufacturers. 
When you are in the hunt for the right painter for your project, be sure to ask about what kind of paint they plan to use. 
We only use the best products available on the market. Our select paint for Interior painting is Sherwin Williams Emerald Interior.
If you'd like to learn more about our preferred paints, be sure to check out our article Types of Interior Paint for your Home.
Designated Account Manager
Ever worked with a contractor that seems to conveniently fall off the face of the earth when you need them most? 
When you work with us, you don't have to worry about that anymore. You can always rely on your designated Account Manager to always be there for you through the entire process of your interior paint project. 
Your Account Manager will be there to assist with coordinating your project and continual support from start to finish. 
Conveniently available from the office Monday through Friday by call, text, or email, they are here to assist with scheduling changes, product education, colors, and whatever else you may need to ensure your project stays on track for a smooth, one-of-a-Kind painting experience!
Complimentary 1-Hour Color Consultation
One of the biggest pain points we've found that homeowners struggle with is paint color selection. 
With so many colors and options to choose from, color selection can be overwhelming. That's why we offer professional color consultation services to help you make a confident and educated decision on your paint color choice. 
For any of our clients that choose to work with us, you'll be provided with this amazing service. 
With our professional color consultations, there's not even a need to leave your house! One of our certified color designers will come out to meet with you at your home to assist with your color selections, ordering samples, and continual support until you have found the colors of your dream home.
Here are more reasons why you should get a color consultant. 
Our Color Designers can even provide you with professional mock-ups of different color options in your space. 
Some companies may offer similar color consultation services. Be sure to ask them about their rates and if the Color Consultant is out-sourced or employed by your paint contractor. 
Project Manager
If you've ever worked with a contractor that doesn't show up on time, doesn't respond when issues arise or fails to communicate with you throughout your project, you are not alone. 
We've worked tirelessly to curate an outstanding customer experience for interior paint projects. That's why we'll provide you with a reliable Project Manager that will work with you on site throughout the entire production process. They will be there to manage your paint crew and all expectations from start to finish. 
Your designated Project Manager will schedule a preliminary walk-through with you to personally confirm all the details of your project, including the scope and color placement, and answer any questions you may have. 
They will work with our paint crew and make sure they are set up for success. 
Your Project Manager will also conduct a final walk-through with you upon painting completion to ensure that everything looks great and you are completely happy with the results! 
Meticulous Prep Work and Cleanup
When working with a professional painter it is essential that they perform meticulous prep work before any painting begins. We believe that proper preparation will lead to a successful paint job that will look outstanding and last for years to come. 
Be sure that your painter takes all of the precautionary measures to protect your surfaces, fixtures and furniture from any paint splatter or paint drips. 
The last thing you want after your paint project is complete is to find out that all of your furniture is covered with paint dust.
We hold our painters to a high degree of professionalism. We have tirelessly perfected our interior paint preparation process over the years. 
From carefully protecting your furniture, floors, and fixtures, to removing wall plates and filling in nail holes and small cracks–we've got you covered!
No Deposit and Satisfaction Guarantee
If the painter you choose to work with asks for a deposit upfront, that could be considered a red flag. We've had countless homeowners contact us after they had a bad experience with another painter that wound up leaving them with unfinished work. 
We will never ask for any payment upfront. In fact, we won't ask for a penny until the work is done, you've had your final inspection with your designated Project Manager, and are loving your newly transformed home!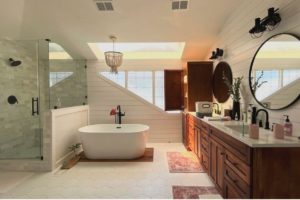 Conclusion 
An interior painting project can be a lot to take on. With so many professional painters available in Colorado, it can be overwhelming. We always suggest that you do your due diligence when choosing a painting contractor and be sure to ask detailed questions about their processes and offerings. 
If you would like a free consultation, feel free to fill out our estimate request form HERE.