2022 Paint Color Round-Up
When it comes to painting, color may just be the toughest hurdle to overcome. As a professional Denver painter, we meet with our fair share of homeowners that struggle to find the right paint colors for their home. Looking back at popular paint color trends can often times be a good place to start.
This blog will hopefully offer some guidance as we reflect back on the most popular 2022 color trends. We'll also make predictions for the 2023 paint season and give you an idea of where to begin on your own color journey. Let's jump in!
White Paint Colors
Shoji White
Light Reflective Value (LRV): 74
Right off the bat, Sherwin Williams Shoji White has a lot going on. This particular color is a warmer white with yellow and a hint of red in its undertones. It has the potential to look beige, gray, and maybe even taupe in some conditions due to these undertones. In 2022, Shoji White was not the star of the show as whites go, but that is not to say that it's a terrible color. Possibly better suited indoors, it can look a little washed out on the exterior of a home when paired with cooler features. For a similar warm white that reflects less sunlight outdoors consider Neutral Ground.
Snowbound
LRV: 83
Moving to the opposite end of the spectrum from Shoji White you will find Snowbound. This white has blue undertones galore. Many gravitate towards this color for the clean, sharpness it exudes. You often see this hue on both exterior and interior trim. This white is fairly universal, working with other cool colors extremely well and creating a sharp contrast when paired with a warm tone. Snowbound will continue to reign as the superior queen of cool whites in the new year. Other wonderful cool white options include Nebulous White and the tried and true, Pure White.
Greek Villa
LRV: 84
If you're having a Goldilocks moment and are thinking to yourself, "Well Snowbound might just be too cool and Shoji is a little too warm…" Greek Villa may be your 'just right'. It combines both blue and yellow undertones without compromising its brightness. This white seemed to top the charts for folks in 2022 achieving a best of both worlds appearance. We are sure to continue seeing this fresh, crisp color used on both exterior and interior projects.
Westhighland White
LRV: 86
The undertones in Westhighland White are soft, but yellow is certainly visible. This helps to steer away from a clinical feel and bring a coziness to the space. Similarly to Shoji, the creaminess in this color can make or break it for many people who are seeking out that clean-cut white. Other suggestions in this family that are more commonly chosen include Alabaster or Creamy as they offer that subtle warmth while still being bright.
Blue & Green Paint Colors
Gale Force
LRV: 6
Navy's are an extremely popular choice when it comes to home exteriors and this particular shade of blue is a wonderful timeless option. Gale Force has a very low Light Reflective Value that may skew towards black in some light situations. However, I do not think that it's ability to function well in many different situations is compromised by this detail. If this color family speaks to you, consider Naval or Outerspace for luxe, rich blues. These dark coastal navy's, will continue to be high up on the list of popular exterior choices for 2023.
Evergreen Fog
LRV: 30
Evergreen Fog is a lovely mid-tone green hue and was our champion Color of the Year for 2022. It has also been incorporated into Sherwin's 2023 Color Trends Palettes and I believe this shade is here to stay. Working beautifully into exterior and interior schemes, Evergreen Fog seems to tick all the boxes for those wanting to choose colors that are warm and earthy. This color works well to not overwhelm existing spaces with saturation, but also has enough oomph to create an accent easily and effortlessly. I am looking forward to seeing it continue to transform and beautify homes inside and out.
Other notable greens include Escape Gray and Pewter Green. Escape Gray offers a softer green hue than Evergreen Fog and incorporates gray into its undertones. On the other hand, if you want a more saturated green, consider Rookwood Dark Green to deliver more of a punch on your exterior or an interior accent wall.
Need help choosing paint colors? Click HERE to schedule a Color Consultation with one of our Certified Consultants today!
Gray Paint Colors
Peppercorn
LRV: 10
I can say for certain that when Peppercorn is mentioned to my fellow Color Consultants and me, we are quite excited! This hue is completely unique in that it combines blacks and browns like you would expect to see in the actual spice. There is an unusual depth and warmth to the color that is lost in other shades of black and dark gray. With that being said, this is absolutely going to be in the forecasts for 2023 projects. It functions well as both the main character and in a supporting role. It can be customized to work well over a wide span of design goals.
Dovetail
LRV: 26
Dovetail is a mid-tone greige with a good amount of warmth to it. The brown undertones here make it inviting and help to make this color applicable to many different projects. However, there are stronger contenders in the Sherwin Williams gray color sphere. These include Acier and Dorian Gray which are definite close relatives to Dovetail but less saturated making them a bit lighter on the eyes. 
Summit Gray
LRV: 30
Another mid-tone gray, Summit Gray, shows off more of a warm, purple undertone. It's easy on the eyes and does not call too much attention to itself. That makes this color malleable to a variety of schemes and able to function both inside and outside well. Grays certainly top the list for exterior schemes as they feel modern and updated. Though warm tones are the big predictions for 2023, grays will absolutely make their way onto many homes this year. Other popular colors in this family are Tin Lizzie, Cityscape, and Grizzle Gray.
Repose Gray
LRV: 58
When talking about very light gray colors like Repose Gray, I find it to be even more crucial to view the color in many different lighting conditions. There have been clients in the past who have chosen a hue similar to this one only to be underwhelmed with its actual 'grayness'. It other words, it appears closer to white. With Repose Gray's high LRV, this can be expected that under intense light the tone reflects much more than anticipated and loses what little depth it had to begin with. Due to the unpredictable nature of colors like this, opt for grays with more saturation like Mindful Gray.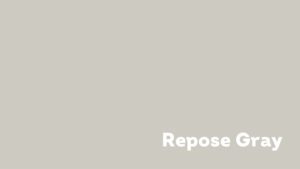 Beige Paint Colors
Kilim Beige
LRV: 57
Kilim Beige is often a great jumping off point when deciding on color in the beige family. This hue can be helpful in deciding whether you want to go lighter or darker with your scheme. It can also be the perfect mid-tone color for those wanting a warm tone without being so heavily brown. It feels modern, but also ages well. For a darker beige consider Antler Velvet. If Kilim Beige feels too dark to you, give Natural Linen a shot.
Accessible Beige
LRV: 58
For a cool-toned beige, Accessible Beige is a solid option. Again, something to keep in mind is that this hue is very susceptible to appearing white or gray in intense light conditions due to its lightness. When I consider what people often look for in a beige, this is not the first color to come to mind. Accessible Beige is certainly light and airy, but to really make a contrast in most schemes, I would opt for a more saturated brown like Shiitake or Loggia.
I hope this 2022 recap is a helpful tool for your 2023 projects. As always, I encourage you to view your color choices with sample sheets or test quarts to consider under many different lighting conditions. This is the best way to make a comprehensive decision on what colors you love the most!
If you need help deciding on your colors, learn more about our comprehensive Color Consultations. And if you are in the market for a professional painter in the Denver area, give us a call at (720) 637-4805. You can also learn more about our paint services HERE. Thanks for reading!